History of Rpaige Watch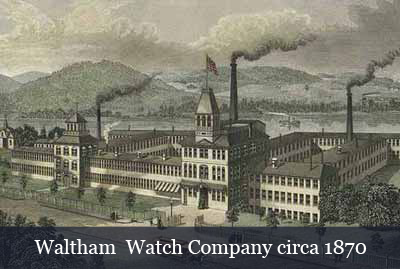 The story of the Rpaige "Wrocket" watch begins with a milestone birthday celebration. My wife, knowing I was a watch fanatic and collector, and a 4th generation watchmaker, who has been collecting watches since I was a teenager, decided to buy me a special gift of a watch for my birthday. She wanted to spend between $2,000 to $3,000 for my gift, and she was excited that I would find the perfect watch for such a vast sum. She knows I collect steel and titanium watches. So in we walked, arm and arm, into a national, high profile, watch chain store. All of the great, and less great, brands were represented, and they even had their own brand of watches.
"Show me everything between $2,000 and $3,000". And out they came, all shapes and sizes, mechanical and quartz, with all sorts of complications. But, not a "Great Swiss House" brand in the bunch: no Jaegers, IWCs, Panerais, Breguets, Ulysse Nardins, Pateks, Vacherons, Blancpains, Cartiers, nor Zeniths. What was more frustrating, was that all the watches of lesser known brands that we were shown, all used the same basic mechanical movement: the ETA brand caliber. Was this what the watch industry had evolved into? The same insides with a brand name slapped on the dial? Wasn't there any watch in the store, for this price range, that I would want for this special gift? This is where the story of Rpaige Wrocket really starts.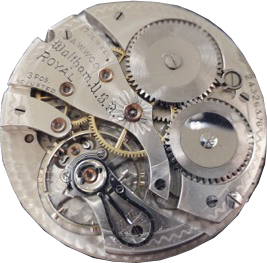 I had founded several vintage and modern watch stores in the San Francisco Bay area, starting in the 1970s through 2001. I had seen the "death" of the mechanical watches in the 1970s, replaced by the electronic, battery operated quartz movements. And I had been in the business long enough to see the resurrection of the Swiss watch industry in the 1990s, as well as the extinction of the American watch Industry in the 1960s. And I personally witnessed the prices of watches go from relatively affordable, to expensive and beyond. The question kept nagging me for months after the watch store experience: could a watch be produced for under $3,000 that was a limited production, relevant, important, and not just another "Me Too" watch??? I needed to find out.I had previously produced four limited edition watches for my website, TimeZone.com, in the late 1990's and completed the final watch edition in 2002. These limited edition watches were made exclusively by well known watch companies, who were looking for a platform for their brands on the internet, and to promote their brand on TimeZone.com. These watch companies had the foresight to understand that the internet would eventually become a major source of adverting, promotion and sales for their brands, and by joining up with TimeZone.com, the leading and most popular watch website at the time, they could expose themselves to this important audience. Thus the limited edition TimeZone watches were born., and proved to be highly successful, each limited edition model sold out. However, a lot has changed since I produced those limited edition watches, and the industry was evolving into a "war of attrition": most of the well known brand name watches were bought up by the large Swiss watch conglomerates, the biggest player being the Swatch Group. Swatch owns around 18 different brands, including Breguet, Omega, Tissot, Blancpain, Tiffany & Co, Longines, Rado, Hamilton. But the real dominance of this conglomerate is their ownership of ETA, otherwise known as, ETA SA Manufacture Horlogère Suisse. ETA produces the vast majority of swiss watch movements for worldwide distribution to greater and lesser watch companies, specifically their workhorse movement, the ETA 2824-2. In short, about 80% of Swiss watches sold worldwide have these movements in their watch, regardless of brand! To me, the mechanical movement or "engine" of the watch is of the upmost importance. It's the heart and soul of a watch, and determines the brand's relevance, worth, prestige, and historical place in the watch world. Since I'm not a watch movement manufacturer, I needed to have a movement that fit my idea of importance for my new watch. I couldn't use an ETA, that would make me another "Me Too" watch, and I couldn't use a "great House" movement, that would make the watch way too expensive for my parameter of a watch under $3,000. Where could I turn? I turned to my roots. I had learned to fix watches on old American pocket watch movements. These are great teaching devices because the plates, wheels and parts are "oversized" compared to wristwatch movements, and it's easier to understand watch mechanical theory by being able to visually see the parts in action.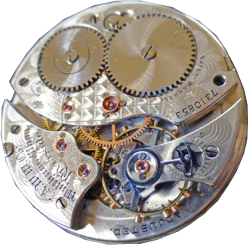 These watches were a pleasure to work on: great materials, great design, and visually beautiful. I fell in love with these miniature "motors" of a time and era of long ago. But it wasn't till many years later, after I had become adept at repairing modern watches, did I come to realize that I had learned my trade on the "Michangelos" of movements. The Golden Era of Watchmaking: American pocket watch movements made between 1890 and 1930. So now I had identified my movements, and the project took a giant step forward….the Wrocket watch: a fusion of the pocket watch and the wristwatch.
Now the question arose: since the project needed to produce at least 300 watches to make the project manufacturing and economically feasible, could I actually obtain 300 to 500 American pocket watch movements?? After all, you just can't pick up the phone, call a watch manufacturer that doesn't exist anymore and order 500 movements. Conversely, even if I found this movements, who would be capable of restoring them to their former glory? Also, what size movement and manufacturer should I use? The great American watch manufacturers – the most prolific and famous being Waltham, Elgin, Hamilton, and Illinois – produced watches from the mid 1800's to the mid 1900's. If you think about the evolution of the watch, you'd see that timepieces started off as large clocks, and as time evolved, the makers were able to miniaturize the parts to make smaller and smaller devices. The original pocket watches were huge by today's standard, yet back then they were considered marvels of manufacturing. And it wasn't until the 1920's that it was possible to produce and manufacture a "miniature clock" small enough to fit on your wrist. Further, the great American watch companies didn't produce the cases for the watches, only the movements. Other companies produced the cases, and often times they were "married" together at the watch and jewelry stores. The watch manufactures produced a standardized diameter size, and the case companies produced and accommodated these standard sizes to fit their cases. A customer could pick his or her movement and case and leave the store with the finished product. Thus a watch case could accommodate several different brand movements. Step two: I had to become a case manufacturer.
Step Three: Design. I have a passion for Art Deco. Spending my whole adult life in San Francisco, I
became a student, then champion of the design. Art Deco was born in Paris in the early 1900's, and America's contribution was the great architectural designs of the 1920's and 1930's (Chrysler and Empire State buildings). To do justice to these watch movements, an Art Deco designed case was the only way to go. Also, I wanted an "oversize" watch, around 42 to 44 mm, and the "12 size" (39mm) pocket watch movements are perfect size for a case of this size. Further, these magnificent watch movements mostly came from "open Face" pocket watches, meaning the winding crown was at 12 o'clock on the dial, and the second hand at the 6 o'clock position. Wristwatches have the crown on the side at 3 o'clock , and the sub second dial at 6 o'clock. So to create my new brand I had to design a new dial that had the winding crown at the 3 o'clock position, which due to the design of the movement placed the sub second dial at 9 o'clock. I wanted everything about the watch to be unique, so I designed an Art deco numbered dial to accommodate my special designed "art deco" round hands." I liked the concept of the dial and hands being "kenetic": as the hands rotate around the dial, it creates a new design, especially at 8:45, where 4 circles overlap. But finally, I wanted the watch to be unique. Let's face it, from the across the room it's very difficult to differentiate one watch from another….they seem to all mimic each other in design and style: military, chronograph, divers: in round, square and rectangle. I wanted the watch to be able to be recognized from across the room…dial, hands, case….."hey, that's an Rpaige Watch"!
Step Four: Restoration of the Movements. In my opinion, the American watch companies produced the finest watch movements in horological history (the art of making clocks and watches) between 1860 and 1935. These masterpieces of machinery far surpassed the workmanship and finish of the Swiss watch industry products from the same period. If you put a 1920's Omega, Rolex, Patek and Waltham together on a table, you would have no problem visually seeing the "best" movement. I decided to use only fully jeweled (15 or 17 jewels) movements for The Rpaige watch, and found that the most bountiful were the Elgin and Waltham movements. Only a small percentage of watchmakers today can restore an antique watch movement, so picking the right watchmakers to accompany my workload for the project was critical. I looked no further than my family. I have three cousins who are also fourth generation watchmakers, and who better to help me restore these treasures than these experienced and knowledgeable watch masters.
Final Product. It was also very important to me that I produce a limited number of editions of these watches, and the movements themselves dictated the number I could do. I believe that these watches will have a noted place in horological history, and they will last hundreds of years, becoming future heirlooms for generations to come.
I've also allotted several unnumbered cases for those of you who have an heirloom watch from your family that could be converted to one of the Rpaige "wrocket" watches……to wear your granddads watch again! Email me for criteria for this conversion, your watch must fit certain specifications to be used in the Wrocket watch case.
Richard Paige